What to see in the area
Samaria gorge: This is a very nice whole day hike in the Samaria Gorge.
You have to take the bus from Chania to Omalos (the entrance of the Gorge).
You should be there at 8:00 at the latest.
The gorge takes 6-8 hours to cross (leasurely). You end up at the Village of Aghia Roumeli where you have to take the boat (last one around 16:00, check it out) to Sfakia, and then the bus to Chania. Its really a full day trip but worth the trouble.

Palaiochora: An interesting area in the south west, not one of the first priorities though.

Loutro: A nice little village by the sea in the south coast between Aghia Roumeli and Sfakia. Accessible only by boat or walking (difficult path).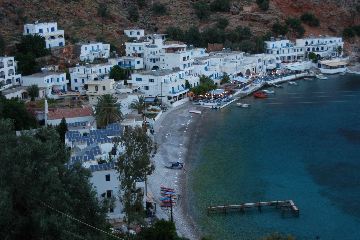 Falassarna: The closest super-beach to Kolymbari, 30 minutes drive to the west. Site of an ancient Dorian city. The little restaurant of Capetan Nikolas in the Falassarna port, is a must!

"Tigani" or "Balos" is one of the two best beaches in Crete (the other is Elafonissos). It is at the bottom of the Gramvoussa peninsula, the western of Cretan peninsulas. From the village of Kaliviani 7 Kms of dirt road plus two Kms of a path bring you to this beach.
Also reachable by boat day trips from Kastelli and Chania.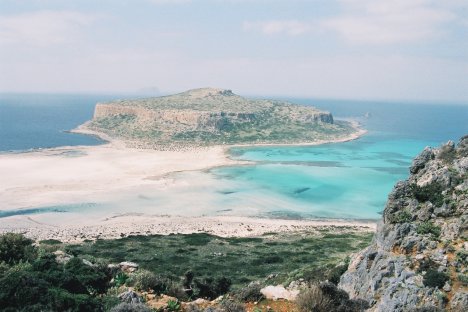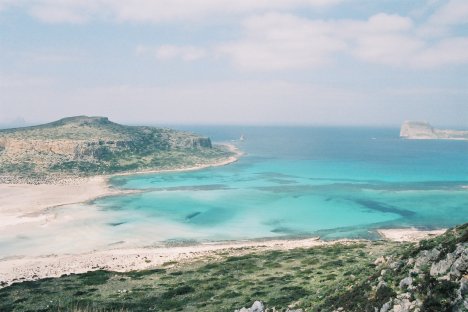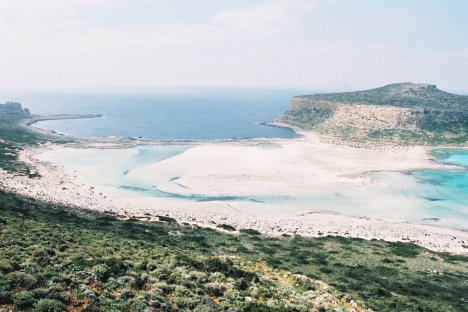 Chryssoskalitissa - Elafonisos: Chisoskalitisa is a nice little monastery, worth a stop on the way to Elafonissos, one of the two best beaches in Crete. Its specialty is the rose hue of its sand.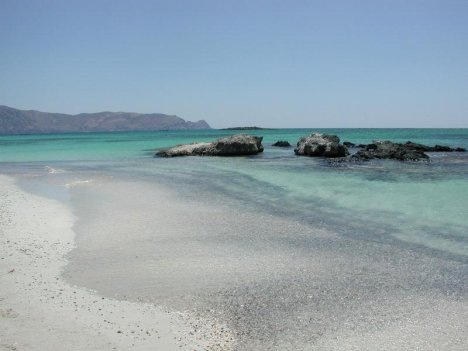 Chania: The main city of the west, that has restored nicely the old town and port. It is around 30 Kms east of Kolymbari.
Certainly the best city in Crete , it merits a visit.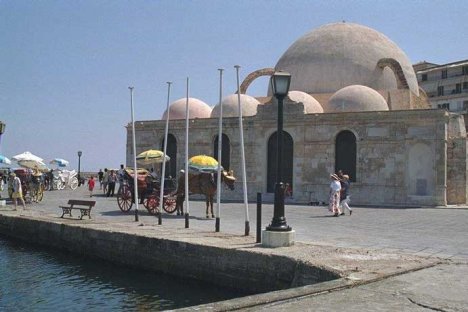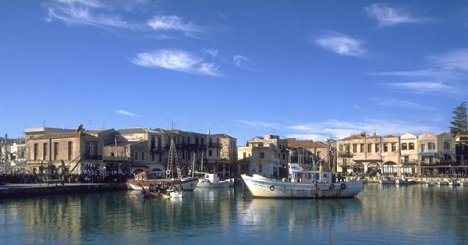 Monasteries of Gouvernetou and Aghia Triada: Two nice old monsteries in the Souda peninsula, meriting a visit. From the Goubernetou Monastery, there is a path that leads to the sea, making a nice two hour hike (one way). Aghia Triada produces top quality olive oil.

---
Information on Crete
from the university pages
---
History and Museums
---
---
Restaurants, Food and Wine
---
---
Other information, Hotels, etc
---
---
Useful Maps
---

A general map of Crete which leads to detailed local maps to all Cretan regions.

More maps of Crete and detailed areas.
---
The Weather
---
For a detailed and reliable weather prediction over the next two days look at the Greek Poseidon site.